Rieux Minervois contains in its heart a marvel of Romanesque architecture: St. Mary's church. In addition to its hexagonal rotunda, rare specimen of Romanesque architecture, it is decorated with carved capitals, attributed to the Master of Cabestany.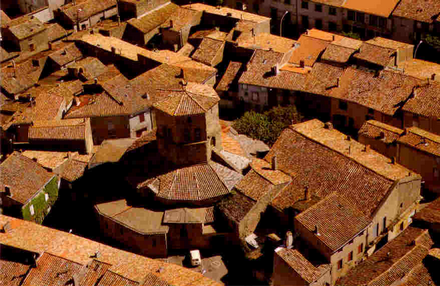 Courtesy of the town of Rieux-Minervois
Between sea and mountains, the village is the ideal place from where you can leisurely explore the area and its many places of interest.
Wine lovers will not miss the vineyards of Minervois, Corbières or Cabardès.
Cathar Country, Aude is dotted with castles, including our three favorites: Saissac, the most beautiful of all: Queribus and the amazing site of The Four Castles Lastours.
From Castelnaudary to Narbonne, Aude hosts a dozen of abbeys scattered in the department, from the most humble, Rieunette to the most famous: Fontfroide.
Between the Atlantic and the Mediterranean, the Canal du Midi runs through the Aude on the peaceful rhythm of the cruises or cycling.
Nearby:
The village of Lagrasse (30km) and the Abbey of St. Mary of Lagrasse, which dates back to the 7th century,
The Bastide and the Cité de Carcassonne (20km), classified by the UNESCO,
The famous red marble quarries in Caunes-Minervois,
The pottery museum and archeological site Amphoralis in Sallèles d'Aude (35 km),
Bike rental: Bike'here in Caunes-Minervois,
Water activities: Sport in Puichéric (10km) or

pool

(1km) to the neighboring village of Peyriac-Minervois,
The megalithic sites of the Dolmen du Coteau des Fées in Pépieux, the Dolmen du Vieil Homme in Villeneuve-Minervois and the Dolmen de Russol – also called The Covered Alley of Saint Eugene,
…
Other points of interest in our links page.